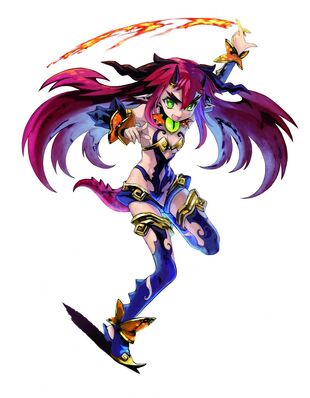 Mimily Bahamut
was made in a lab a thousand years ago, she's part-human part-dragon letting her use the "fire breath" ability, Mimily has been asleep for one thousand years during/after the war and has a great hatred towards
Ancient Weapons
after one killed the professor that brought her into this world.
Abilities
Edit
Character Traits
| Name | Level | Effect |
| --- | --- | --- |
| Fire-Breathing | 1 | Has Fire Breath if using less than 3 magic abilities. |
| Keen-Minded | 1 | +12% Mana to all Magic slots. |
Starting Job: Pyro, Level 35
Starting Energy Frame: Duo Fire
Starting Equipment: Aikuchi (Dagger), Chain Clothes, F Arrow, F Breath (Innate)
Ad blocker interference detected!
Wikia is a free-to-use site that makes money from advertising. We have a modified experience for viewers using ad blockers

Wikia is not accessible if you've made further modifications. Remove the custom ad blocker rule(s) and the page will load as expected.